B5 Juvo F
A modular design that offers almost boundless possibilities
The front-wheel drive can easily overcome obstacles such as curbs thanks to its large drive wheels. It also offers you good transfer possibilities and a high degree of manoeuvrability. The wheelchair has a relatively small turning radius with a usual 90° motion and the ability to drive especially close to objects such as furniture or desks.
Why Front Wheel Drive?
Compact design
Very small turning radius
Drives up close to objects
Good overview in front of the wheelchair
Ideal for indoor and outdoor use
Easily navigate curbs
User comfort
Good leg positioning
Postural stability
100-hour test during development
Anti-tip rollers
These wheels ensure that the wheelchair does not tip over to the front when driving downhill and braking hard (e.g. when the control unit is turned off). The flexible anti-tip rollers fold back when they come into contact with the respective obstacle so that your front-wheel drive Juvo maintains its climbing ability (e.g. on curbs).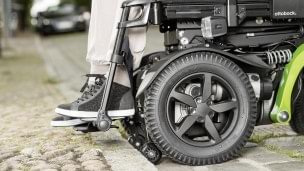 Click HERE to contact us for a free, no obligation assessment in a location of your choice.